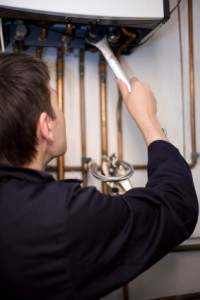 We can help you with the replacement or repair of your gas boiler.
The peak times for people to develop an issue with their heating and boiler is at the end of the summer months, when people turn on their gas boilers after months of inactivity. In these months, it is not uncommon for a gas boiler to develop issues with clogged or seized parts due to lack of use.  Because of this, it is recommended that you schedule a gas boiler service before the end of summer.
Servicing costs vary depending on your type of boiler (e.g. standard, combi-boiler or condensor) but our prices are always very competitive.  It is strongly advised that you install a carbon monoxide detector in your home in close proximity to the boiler itself and we can take care of that too.